Simple Steps to E-File Payroll Tax Form 940, 941 & 944
Create an Account

Click "Register" and enter your filing information. There are no start-up fees - you'll only pay when you e-file!

Follow interview style Process

In less than 10 minutes, you can enter data for your forms through our easy-to-use software.

E-file with the IRS

Once complete, you can review your forms. Then e-file it to the IRS. Your Form's status will also be emailed to you as soon as the IRS accepted your return.

ExpressIRSForms, An IRS-Authorized 940 & 941 E-file Provider
The IRS mandates employers to e-file 941 report with the required withholdings information from their employees. Also IRS mandates the employer to report FUTA taxes by filing Form 940. ExpressIRSForms is an IRS-authorized e-file provider and provide an electronic filing for Form 940 & 941 at special pricing. Our 941 software makes it easy to comply with this mandate IRS reporting requirements in a simple way!
Our software provides you with the flexibility to handle the majority of your filing by yourself without relying on paid preparers. Try our online solution to see how easy it is with our step-by-step help and customer support experts who are able to help you through your process. There's no math to confuse you if you file form 941 with ExpressIRSForms, and if you have any questions, you can talk to our experts anytime!
ExpressIRSForms - Form 94x E-Filing Features

Schedules
Its that simple to prepare your 94x Forms with our step by step interview style e-filing process.

E-sign Form
With ExpressIRSForms, you can e-sign 94x Forms using either an Online Signature PIN or Form 8453-EMP.

Request Online Signature PIN
ExpressIRSForms can also help you request a new Online Signature PIN if you need one to e-sign Form 940 & 941.

Aggregate Filing
If needed, ExpressIRSForms is able to support Aggregate Filing for Form 940 & 941 e-filers.

Step-by-Step Process
In addition to your Forms, you can also file the required Schedules with ExpressIRSForms.

Current & Prior Tax Year Filing
With ExpressIRSForms, you can file Form 941 Online for the current tax year as well as the most recent previous tax year.

Built-in Audit
As like the other forms, ExpressIRSForms performs built-in audits to ensure error-free e-filing for your Forms.

Pay Balance Due
When you e-file your Forms with ExpressIRSForms, you also have the option to submit your taxes due along with your return through Form 940 & 941-V.
Form 94x Series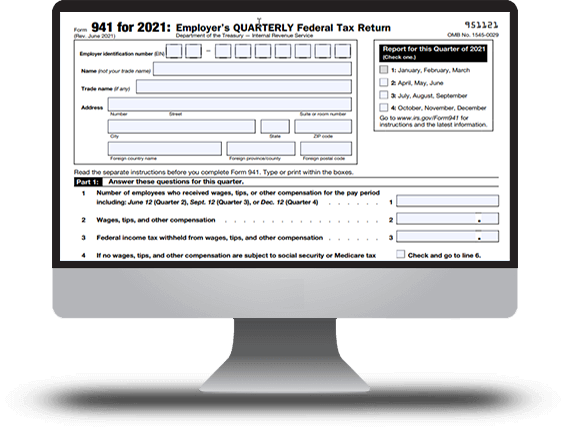 Form 941 for 2019
Form 941 is the employer's quarterly federal tax return. it's used to report income taxes, social security tax, or medicare tax withheld from employee's paychecks and also to report the employer's portion of social security or medicare tax. Learn More
Complete your Form 941 easily in just few minutes and directly transmit it to the IRS through our web based software.
Only Pay When You're Ready to Transmit to the IRS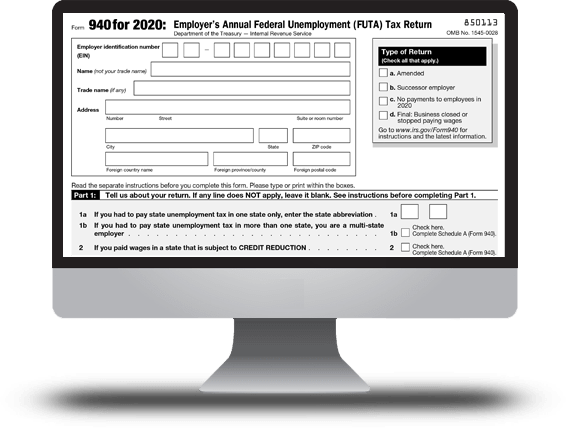 Form 940 for 2018
Employers use Form 940 to report annual Federal Unemployment Tax Act (FUTA) tax. FUTA tax applies to the first $7000 paid to each employee during a calendar year. Along with state unemployment tax systems, FUTA helps provide unemployment compensation to workers who have lost their jobs. Learn More
Only Pay When You're Ready to Transmit to the IRS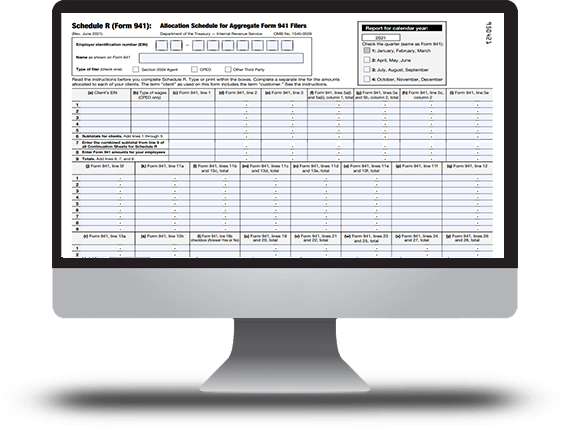 Form 941 Schedule R
Schedule R (Form 941) is the Allocation Schedule for Aggregate Form 941 Filers. Certified Professional Employer Organizations (CPEOs) and Section 3504 (F/EA) Agents have to file an aggregate Form 941, with Schedule R (Form 941) attached, if they are reporting wages on behalf of their clients. Learn More
Only Pay When You're Ready to Transmit to the IRS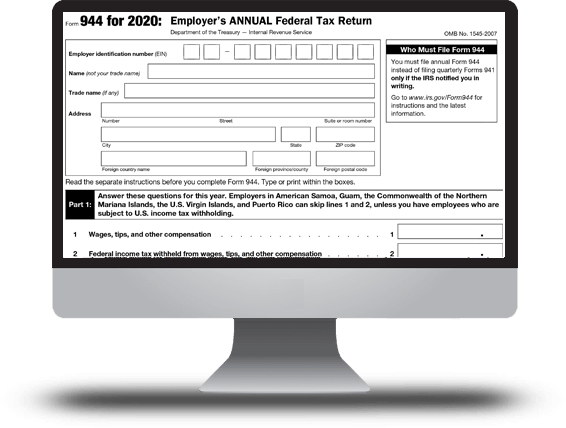 Form 944 for 2018
Form 944 is the Employer's Annual Federal Tax Return. The smallest employers, those whose annual liability for social security, Medicare, and withheld federal income taxes is $1000 or less, file Form 944 to pay these taxes once a year instead of every quarter.
Only Pay When You're Ready to Transmit to the IRS